As an Amazon Associate, I may earn from qualifying purchases. Learn more
How to Setup Your Twitch Stream Key
Many of us dream about starting our streaming career so that we can show the world our skills, grow an audience, and hopefully turn something that we love into a paying career.
But if that's all you're thinking that right now, you're probably getting ahead of yourself.
You first need to think about how to set up your stream in terms of getting your streaming key from your Twitch dashboard pasted over to the streaming program of your choice; StreamLabs OBS or OBS.
Before you think about turning on your stream and growing your own community.
Getting this set up isn't too difficult, though many people get frustrated and in the end, never bother even starting their stream; so make sure you follow along closely.
Afterward, since you finally have your streaming key in the right place and your stream is ready to go live and able to be discovered by the world, we want to discuss some of the setup basics.
Helping you to further set up the stream to get it to a point where you can begin right after reading this article.
Whether that's knowing where to post your stream key, setting up your game capture, or just setting your stream to go live; this way we can provide extra value beyond helping you find your stream key.
Step By Step Process Of How To Find Twitch Stream Key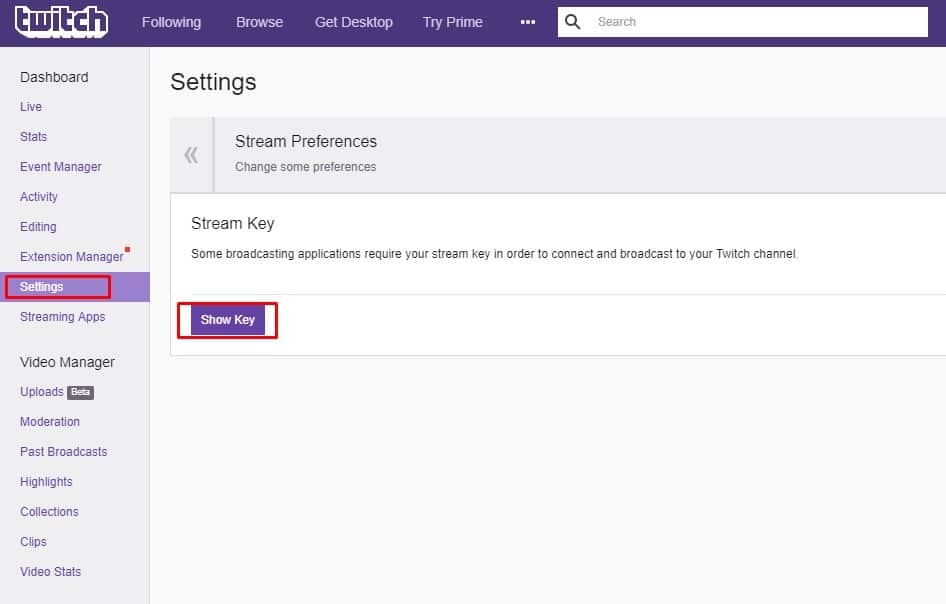 Before you can stream, you need to give your streaming software, let's say OBS, the credentials it needs to be able to broadcast on your twitch channel.
Generally, whatever streaming platform you're using the place where you put your streaming key will be the same; we will discuss this exact location further down.
As streaming software becomes more advanced, it gets far easier to connect your Twitch account too, you may even be able to log in through the software to your Twitch account instead of messing around with a stream key.
However, we're going to assume you can't do this, and instead, we are going to walk you through how you can get your stream key so you can copy and paste it into your streaming software of choice.
Log in to your Twtich.tv account. If you haven't signed up yet since you're just starting out, then make an account now! And make sure you're signed in for this next step.
Focus your attention to the top right of your screen, you should see your avatar, click it and now you should see a dropdown. Click the button that says

Dashboard

.
You should see a menu on the left side, click

Channel

under the settings header.

Afterward, there should be another button on your screen that should say something along the lines of

Stream Key

– make sure to click that.
Next, there will be an option that lets you know you can reveal your stream key, click that, and now you should see your unique key on the screen.
Now you want to go to your stream software of choice, whether that's OBS or Streamlabs, and paste the stream key where it needs to go.
Awesome! You're all set up to be able to broadcast to your Twitch channel!
Additional Twitch Streaming help
As mentioned, we're going to go over some of the basics when it comes to setting up your Twitch stream so that you can make sure that you're all set up and ready to stream today!
RELATED: Become A Streamer
Choosing your Streaming Software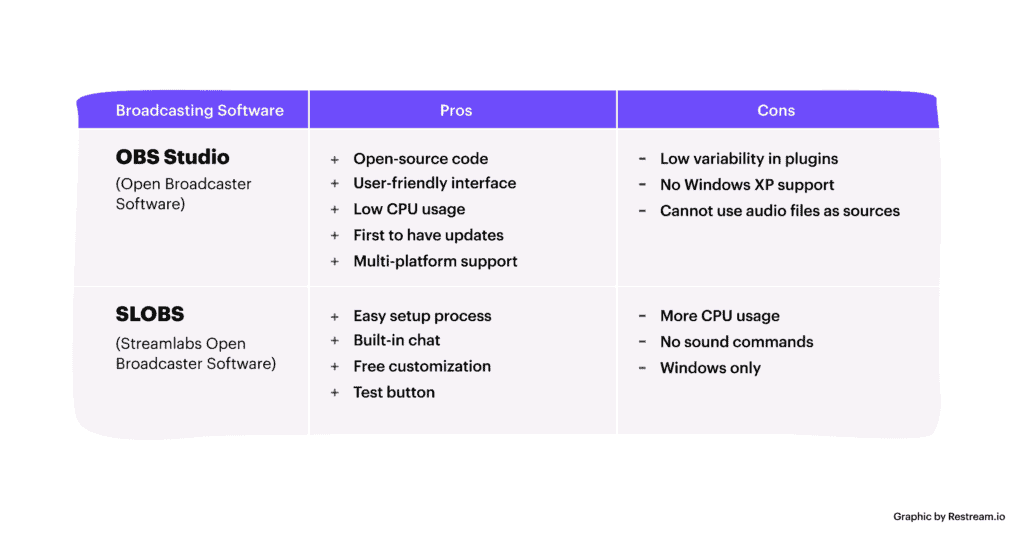 We have mentioned a number of times about streaming software, and although there are many options out there we believe that anyone new to streaming should just go with OBS or Streamlabs OBS.
This is because although they have their problems, many streamers from newbies to Pro use this particular software; meaning that there is plenty of advice out there if you get stuck with a problem.
OBS is a free streaming software available for PC and is generally usable out of the box without needing to fiddle around with too many settings; allowing you to broadcast the games you love without the hassle.
With the installation complete, run the program and you're ready to get started.
Where To Enter Your Twitch Stream Key On SLOBS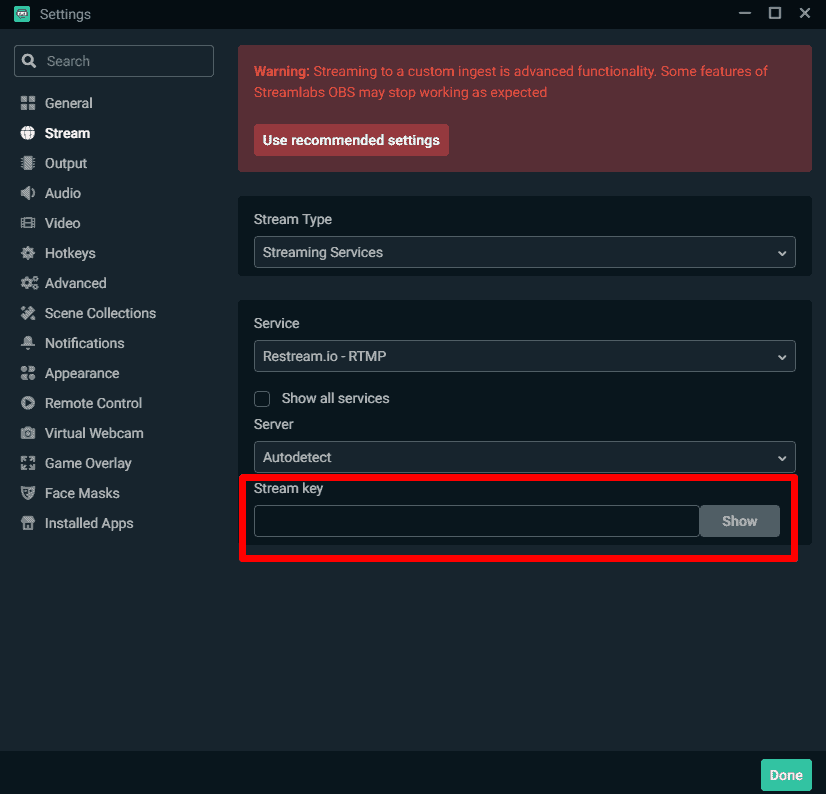 In this article we have already run you through the process of getting your stream key from your Twitch dashboard, so you should be ready to find out where exactly it needs to go.
With OBS fully loaded up, click the settings button on the bottom right side of the program, and then click the streaming icon from the left panel.
Over to the right, make sure that the Streaming services option is selected from the Stream Type menu, and that Twitch is selected from the services menu (or whichever platform you may be using).
Below this, you will want to paste your stream key to this field and then press Ok.
RELATED: Get Verified On Twitch
Setting up your game capture for SLOBS
First, you need to launch the game you want to stream and then return to your OBS window.
In the source panel at the very bottom right of your screen, click the + button and select the option which reads Game capture.
Making sure that the create new option is selected, you're going to want to add a name, this can just be the name of the game you want to capture, but ultimately it can have any name you want.
Click ok once you have given it a name.
Now from the mode menu, you're going to want to select the capture a specific window option and then choose the window which you want to capture; your game window.
Now you're all set, you will just need to select this scene the next time you go live.
Repeat these steps if you're intending to stream multiple games on your Twitch channel.
How to actually start your stream
Once you've configured all of your OBS settings to your liking, you're ready to start entertaining and growing your audience.
Depending on how good your PC is, you may need to visit the video section of the settings to lower the quality of your stream so your PC doesn't struggle too much.
But this is something that you will soon find out once you launch your stream and you will know if your PC can handle it or not just by the way it now operates.
All you need to do is hit the start streaming button on the right side of the OBS window to begin.
You can stop the stream whenever you feel like it by hitting the stop streaming button too.
How To Find Your Twitch Stream Key - Reset Twitch Stream Key - 2020
Hi, my name is Luke. I've been gaming my whole life. When I was 13 years old, I built my first gaming PC from scratch to compete with the kids on the block. Since then, I have built dozens of other gaming PCs for various friends and family members and found a love for many PC games too. I've been streaming on Twitch since 2014 and have helped countless community members set up their streams to be successful. That led me to earn my bachelor's degree in cyber security and technology which has helped me in writing reviews, how-to articles, streaming gameplay, creating YouTube videos, and having extensive knowledge in various aspects of the gaming industry!