As an Amazon Associate I earn from qualifying purchases. When you buy through links on our site, we may earn an affiliate commission. Learn more
How To Get Verified On Twitch:
If you are looking for how to get verified on Twitch we can help. Although, there are criteria that you need to meet before being verified. In this article, we will be talking you through these steps.
The majority of people are aware of a platform called Twitch. It is used by many influencers and those who enjoy gaming. It is a fun and interesting platform that allows you to steam the games you are playing with viewers through the site.
If you enjoy watching certain Twitch streamers such as Guales or Ninja, you have likely noticed their verified status. For most budding Twitch streamers, the goal is to receive Twitch verification. It helps the user to be more widely recognized for the streaming they do.
Surprisingly it is not too difficult to become verified on Twitch when compared to other social media platforms.
What Is Twitch?
Twitch is a popular streaming platform. While other platforms enable you to stream, Twitch focuses on displaying live streaming content.
In comparison to other social media platforms, Twitch is fairly new, being launched in 2011. It was founded by two people, in particular, Justin Jan and Emmett Shear.
The main focus of Twitch is to stream gaming content, though other influencers such as musicians do use Twitch too. After its release, it quickly became a particularly popular form of social media.
What is great about the site is that because the streams are live, it allows creators and viewers to interact in real-time, instead of commenting on a pre-filmed video. It allows for better interactions overall, and it brings in over 3 million users every month.
While there are many influencers and gamers unique to Twitch that are streaming content, many influencers from other platforms such as YouTube, have taken to using Twitch too.
What Does It Mean To Get Verified on Twitch?
If you use any form of social media, you have likely become familiar with the phrase "verified". Your favorite celebrity or reality star likely has that well-known tick next door to their name.
Being verified is important to many people because it acknowledges the achievements of a person. It enables other people to see that they are following their favorite celebrity rather than an account pretending to be them, for example.
Being verified is commonly linked to celebrities, brands, and public figures. It tends to be a goal for many people as it emphasizes that you have reached an "influential status". Not every account can be verified on every platform.
You must also show that you add value to the Twitch community and don't have any strikes against your account. Applications for partnership will be considered on a case-to-case basis. If you are rejected, politely ask what you need to improve to be considered again.
What is the 

Twitch Verified Badge?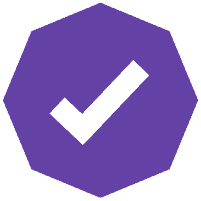 The Twitch verified badge is a purple octagon with a checkmark on it. It is displayed by your name at the top of your screen. Twitch released the verified badge in 2017 at the same time that the platform released its Affiliate program.
Twitch has come a long way in the last five years and the service is now offering a Twitch verified badge to allow some of its most renowned streamers and gamers to benefit from their audiences. A Twitch verified badge allows those using the service to make some income from their streaming and has been proven to help grow their audience. 
Read also: How To Setup A Twitch Private Stream
How to Get the 

Twitch Verified Badge:

At present, it does not matter whether you are a novice streamer or a professional one to get Twitch verified badge and benefit from the audience. By completing the steps above and being granted verified partner status, you will be able to apply to become a Twitch Partner, which will make you a Twitch verified user.

This will qualify you to become Twitch Verified, and you'll get the Twitch verification badge automatically. As with all verification services, users will need to meet requirements – not everyone can be provided with the Twitch verification badge.

Check out Twitch's Chat Badges Guide for more information on all the badges Twitch offers, like how to get verified,  and get your Twitch verified badge.
How To Get Affiliated On Twitch:
Before you become a Twitch partner you need to become a Twitch affiliate. This is the first step in monetizing your Twitch stream!
To do this, you must meet all four requirements in a 30-day period:
You'll need to get 50 followers.
You need to stream for a total of at least 8 hours.
You need to stream on at least 7 different days.
You need to have an average of 3 viewers.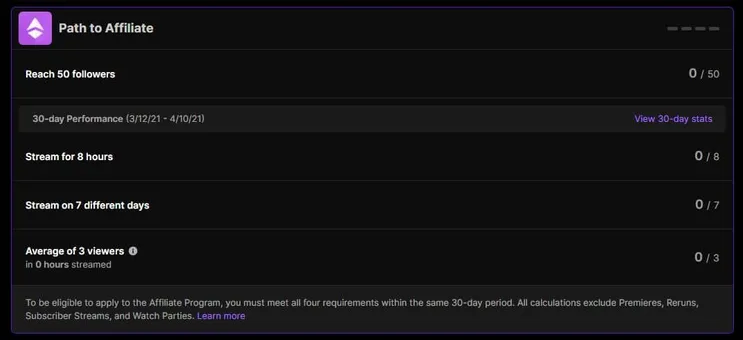 How To Get Verified On Twitch:
The verified badge of Twitch is a purple circle with a white tick in the center. In comparison to other social media platforms, it is not too difficult to become verified on Twitch.
However, there are a certain number of different criteria that you will need to meet before you can get your verified badge:
You are required to stream for a minimum of 25 hours in the last 30 days.
You must stream on at least 12 different days within a 30-day span.
You also need to have an average viewer count of 75 viewers watching your channel during that time frame.

1. Becoming A Twitch Partner
Becoming a Twitch partner is an essential step to becoming verified. Without being a Twitch partner, you cannot reach a verification status.
To become a Twitch partner, there is a set amount of statistics that you will need to meet. You will first need to be accepted as an affiliate.
2. At Least 50 Followers
To be verified, you do need to have a following. Without a following, you cannot become a Twitch Partner. At a minimum, you will need at least 50 followers.
As this is the minimum requirement, it is worth trying to increase your following as much as possible before applying. This is likely to increase your chances.
While this can take a while to reach, as you build up an audience, and interact with those who watch your streams, it is not an impossible goal.
The most important part about gaining followers is to ensure that you are creating content that will make others want to follow you to see more. The more engaging and interesting the content is, the more likely people are to want to stick around.
Check out our article, "Five Easy Ways To Grow On Twitch", to maximize your Twitch growth!
3. At Least 500 Minutes (25 hours) Of Broadcasting Over One Month
The amount of time that you have streamed for is important. Before applying Twitch will want to see that you are regularly using the platform and are active often.
As a verified status enables you to become a Twitch partner, you must be regularly using the platform.
The more streams that you do, the more likely it is that you will become accepted into the program. When you split up these hours over a month, it is a very reasonable goal to achieve.
4. Steam on 12 Different Days Over The Last Month
If you are streaming regularly, likely, you will already be meeting these criteria, but if you are not, you must use Twitch often. Many verified streamers will have a schedule every week of when they stream and a limit for how long they stream.
When you break down the statistics, you will technically only have to stream for a minimum of 2.08 hours over 12 days to be accepted as a partner. This is achievable and the vast majority of streamers are likely already reaching this target.
5. 75 Concurrent Viewers
This is probably one of the more difficult goals to reach, but you will need to have a consistent amount of people watching your videos.
If you are verified people must be going to stick around and watch your content, rather than tuning in and clicking off the video.
This is why it is important to interact with viewers so that they will watch your streams for longer. The average amount of viewers you will need to have per stream is 3.
6. Meeting The Terms And Conditions
As with any social media platform, you must be adhering to the full terms and conditions. If you are confident that you are complying and you have reached all of the minimum requirements you are eligible to apply for a Twitch affiliate status.
After you have achieved an affiliate status then you can take the steps to become a partnership. Once you have a partnership, this is when you can apply to become verified.
Summary
We hope that you have found these steps helpful. This is the foundation and minimum that you need to achieve to receive a Twitch verified badge.
It is worth noting that even if you do achieve these goals, this does not mean that you will automatically be accepted. The decision is made by Twitch and they choose whether or not to verify people ultimately.
Also, read "How To Become A Streamer On Twitch" for more information on becoming a successful Twitch Streamer.
How to Become a Twitch Partner