As an Amazon Associate I earn from qualifying purchases. When you buy through links on our site, we may earn an affiliate commission. Learn more
Stream overlays are a key part of anyone's Twitch stream as they can add a lot of personality to the whole experience and allow your viewers to really notice when someone donates or subscribes to your channel, which could influence them in doing the same thing too.
Not only is it a form of celebration, but it can also be handy to have so you can be ready to thank the person as soon as the twitch alert goes off, showing your appreciation for them giving you their hard-earned money.
Otherwise, if you didn't have an alert, you might miss their donation whilst you're tryharding on Warzone or League of Legends and the person who's just donated to you might even think you don't appreciate their money, which generally isn't a good look for you and your stream.
So, you should absolutely have stream overlays, but not just any stream overlay, it should fit the aesthetic and general vibe of your stream…but where can you even get stream overlays from?
And if you're on a budget, are there any places where you can get Free twitch overlays?
In this article, I have compiled a list of places where you can find some of the best Twitch alerts which are available online.
I have also ranked them from Best to worst though none of them are bad one of them has to take the bottom spot.
Anyway, let's give you the list in short, and then I'll talk more about them in-depth in the rest of this post: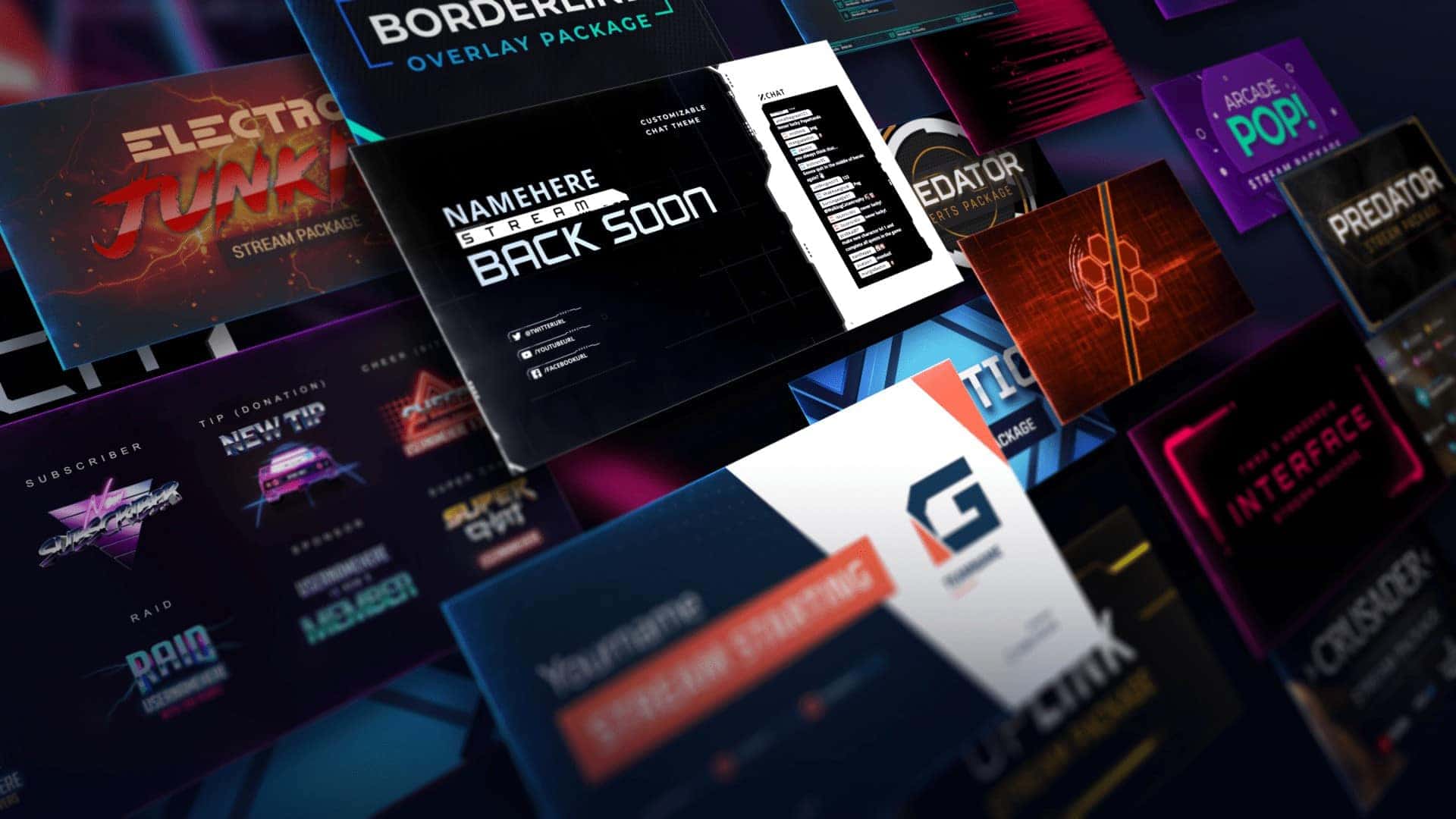 With over 50 stream alerts to choose from, NerdorDie has one of the largest catalogs available for any Twitch streamer.
With different animation styles and looks, there is going to be one that fits your style and your overall stream vibe.
On top of that, you are also able to customize the alerts to your own needs, so that they can align them with your chosen color scheme as well as being able to change their language depending on what you like to use for your stream.
Ultimately, your stream is going to be entertained every time someone donations, followers or subscribers to your channel.
Here is a full list of the alert capabilities:
New Subscriber
New Follower
New Donation
New Cheer
New Host
New Raid
Resubs
Nerd or Die Stream Compatibility
Nerd or Die's Twitch alerts are compatible with the best and most popular streaming platforms available:
Twitch
Facebook Gaming
YouTube Gaming
The alerts are also compatible with the following stream software:
OBS
Streamlabs OBS
XSplit
What else can you get on Nerd or Die?
Just like a lot of the options on this list, you will also be able to get far more than just Twitch alerts on their website, they essentially offer streamers the whole package when it comes to customizing how everything looks to your viewers on screen.
If you're looking to tailor your stream more to your vibe, alongside your brand new Twitch alerts, then you can also purchase the following things from Nerd or Die:
Twitch overlays
Twitch panels
Sound effects
Looping backgrounds
Stream transitions
Stream Deck key icons
Free alert maker from Nerd or Die
While you can spend your money on high-end alerts, as well as a range of other things I pointed out in the previous paragraphs, you can also get custom alerts very free!
Although Nerd or Die suggests that you pay at least $3 for their generator, you are more than welcome to get this absolutely free.
Something like this is a great idea if you're just starting out streaming when you haven't really got the money to customize your stream just yet and you really just want to make a start on your streaming career as a whole.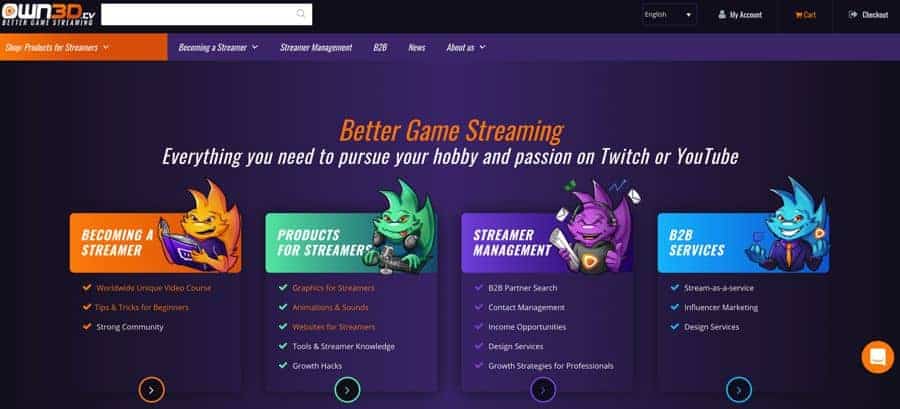 Another choice you have if you're looking for premium alerts is Own3D, as they offer a range of ones that will help you to emphasize your whole streaming vibe, even more, to make the user's experience much more streamlined.
Own3D offer a lot more than just Twitch alerts, though I'll get into that a little more later, first I just want to go over some of the alert categories on which you can use your brand new Twitch alert:
When someone subscribes to the channel
When someone starts following your channel
When someone donations to your channel
When someone cheers
When someone hosts your channel
When someone raids your channel
Own3D Stream Compatibility
Once you've got your set of alerts from Own3D, you can use them on a range of streaming platforms, just like the other alerts from the other services on this list, they are:
YouTube Gaming
Twitch
Facebook Gaming
The alerts are also compatible with specific streaming software, here is the full list:
Streamlabs OBS
OBS
XSplit
StreamElements
What else does Own3D offer?
I mentioned at the beginning of this review of Own3d that they offer much more than twitch alerts, and that is very much true.
The catalog of the things they offer which can help take your stream from noob to pro is the largest I have ever seen, and if the alerts are anything to go by, then all of the other things you can purchase will be just as high quality.
Here is a list of items you can buy from them to work with your new alerts:
Alert sounds
Emotes
Sub Emotes
Sub Badges
Bit badges
Avatar/Logo
Twitch trailers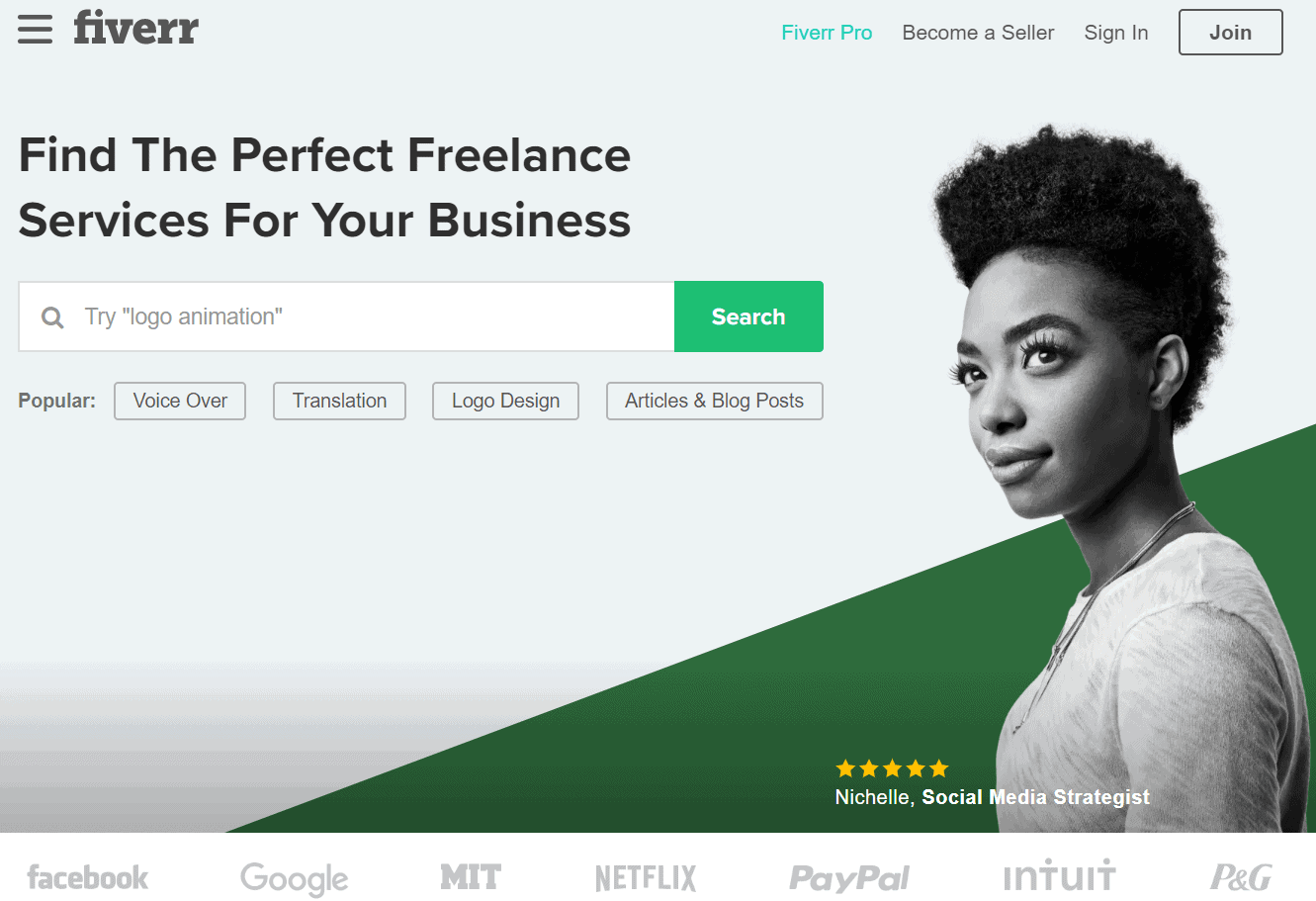 Even if this is your first time looking for Twitch alerts, there is no doubt you will have heard of Fiverr before, and although they're not a platform fully dedicated to bringing you high-quality graphics for your stream, there are still some great artist on there who can do a great job for a fraction of the price.
Though the customization is really good here, since you're one-on-one with an artist, the quality of the work really depends on how much you're paying them.
Despite all of this, you can still use the Twitch alerts for:
For new subscribers
New Followers to the stream
New Donation to the stream
New Cheer to the channel
Someone hosts your channel on their page
New raid from another streamer
Fiverr Stream Compatibility
Again, you can very easily use these Twitch alerts regardless of the platform you're using, as they work on:
Twitch
YouTube Gaming
Facebook Gaming
And they will work on most if not all streaming software available, such as:
XSplit
OBS
Streamlabs OBS
What else does Fiverr offer?
There is no definitive way for me to find out what else Fiverr offers unless I was to check out every artist on the platform, which I don't really have the time to do.
Although with that being said there is a very high chance you will be able to find artists who can help with your emotes, profile pictures, channel trailers, and anything else your stream needs as this platform has creators who have all types of skill sets.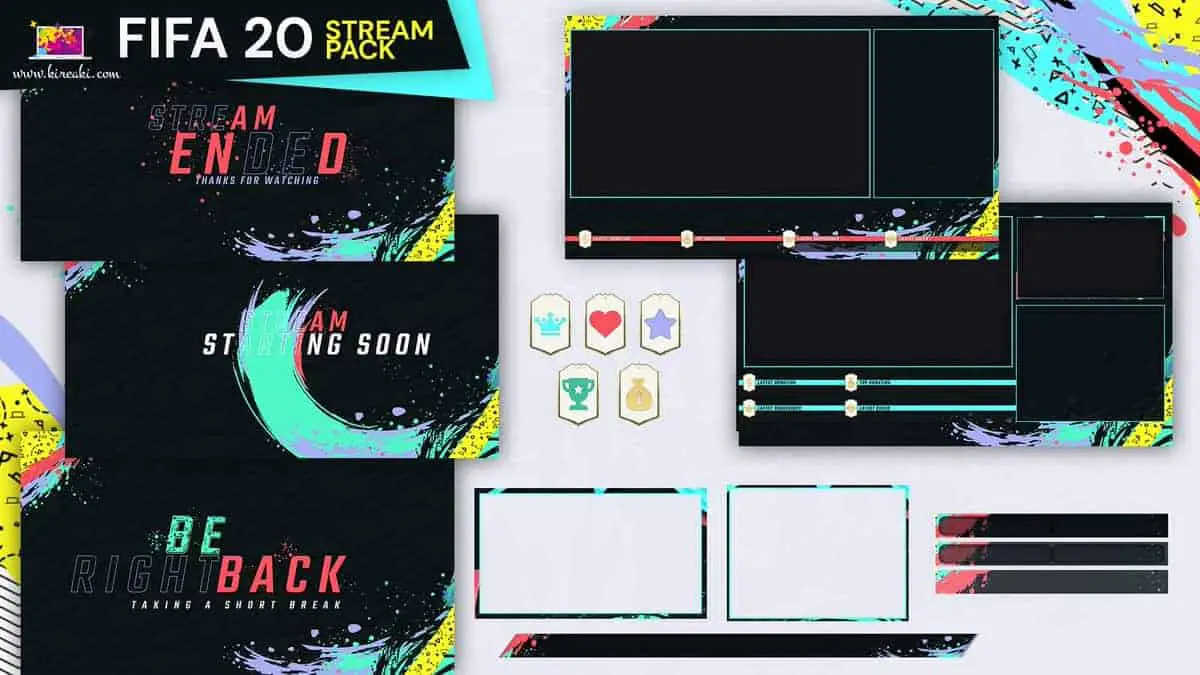 Is another great platform where you can get professionally designed animated Twitch alerts to bring your personality out on your stream, as soon as someone does one of the following actions to trigger the alert:
Subscribers to the stream
Follows the stream
Donations to the stream
Sends a cheer
Hosts the stream
Raids the stream
Or Resubs
Kireaki Stream Compatibility
Just like the previous website, the twitch alerts from Kireaki work on a range of streaming platforms that you are no doubt a part of already:
Twitch
YouTube Gaming
Facebook Gaming
The alerts are easy to set up and can be done so on the following streaming programs:
OBS
Streamlabs OBS
XSplit
What else does Kireaki offer?
Not only can you get stream alerts from Kireaki but you are also able to fully customize the rest of your stream.
To go along with your new Twitch alerts, you can also get:
Background and Scenes
Channel Art
Overlays
Transitions
Webcam Frames
You can of course purchase these individually, but Kireaki also offers a bundle deal where you can get the whole package for a much better price.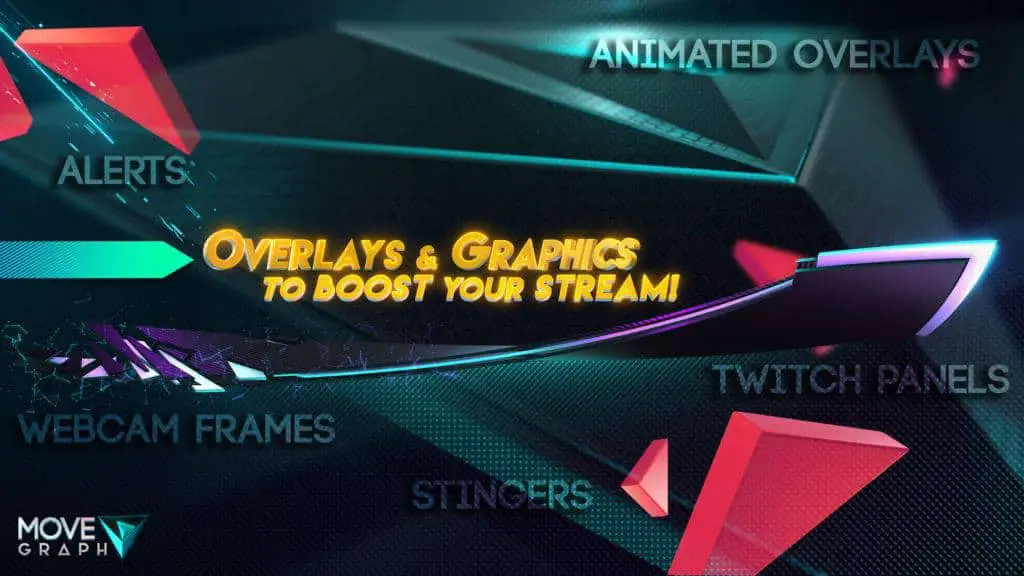 Lastly, on this list, this is a lesser-known place where you can get your Twitch alerts for your streaming channel, though they still offer high-quality services with prices that compete with some of the more popular ones on this list.
You can use the alerts when:
You get new followers
Someone subscribers to your channel
Someone cheers in the chat
Another streamer hosts you
Another streamer raids you
With a range of different services on offer, you'll be able to get more than just Twitch alerts, if you've got the money ready to spend you could easily complete your entire channel setup just from one of their bundles.
Move Graph Compatibility
Move graph is no different from the other services on this list, despite its lack of popularity, meaning that you can still use the alerts on any of the popular streaming platforms like:
YouTube Gaming
Twitch
Facebook Gaming
The alerts are also compatible with specific streaming software, here is the full list:
Streamlabs OBS
OBS
XSplit
StreamElements
What else does Moving Graph offer?
As mentioned, you'll be able to complete your full setup with Move Graph as they offer a range of different things that can be found on their website, which will help achieve the ibe' you are looking for, for your stream.
Here is a list of things you can also purchase on moving Graph:
Animated Screens
Twitch panels
Transitions
Animated Overlays
Webcam overlays
How to setup your brand new Twitch alerts
Now that you've chosen service from this list and you've purchased your very first Twitch alert (or you've created a custom one using Nerd or Die's tool) you should now be eager to set it in action.
Depending on your streaming software, the process is going to vary, but generally, you will need to upload the image or animated file and then select what actions need to be made for it to pop up on stream.
Boom, you're all set!
PROFESSIONAL TWITCH ALERTS (with download links)